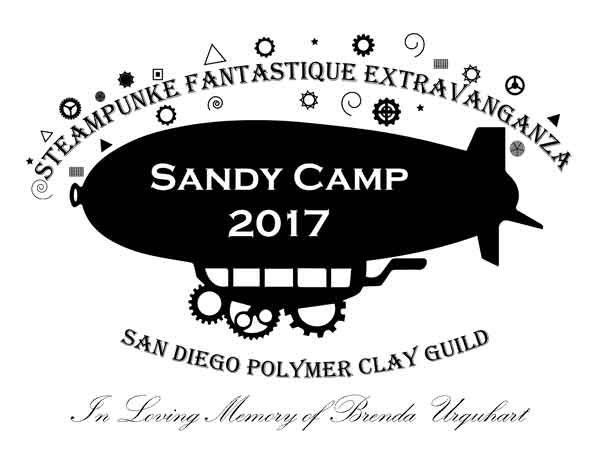 This is a list of event "teasers" and a link to photos. Join us next year for our 20th Annual Sandy Camp!
Here are some other online resources that might come in handy:
https://www.facebook.com/groups/sandycamp/
http://sdpcgt.wixsite.com/sandycamp
#1 Introduction to "Steampunke Fantastique Extravaganza"
#2 Hotel details – Crowne Plaza in Mission Valley
#3 Sandy Camp Swaps – What are they? How do they work?
#4 Places to see, Things to do around the hotel
#5 What you REALLY need to bring to Sandy Camp — and what NOT to bring. Please have mercy on your table mates!
#6 Featured Artist Class  – Judy Summers  Horse Armature. About the class, what to bring, what will be provided.
#7 Thursday Night- White Elephant Tool Exchange.  It's like a holiday gift exchange, unwrap and steal up to 2 times before it's FROZEN. See Teaser for more details.
#8 Friday Night Social – Store demo round robin. Learn how to use the tools and materials from the artists featured in the store.
#9 Wednesday Night – Button Swap Bingo – Fun for those not attending the Master Class.
#10 Baking Panel – 3 of our experts answer your "how to" baking questions. Different ovens, brands, products, timing…
#11 Clay "Stackabilities" with Jill Kollman – Clay stacking ideas from mokume gane to dragon skin
#12 Miniature Polymer Clay Rose with Christina Whipple – Got a "black thumb" when it comes to gardening? Forget growing them. Make beautiful, realistic roses by the dozen!
#13 The Steampunk Goblet Challenge – Decorate your goblet using Sculpey's donated clay, gear and other stuff and maybe win 25 Drawing Tickets!
#14 3D Pod Pendant with Permanent Bale with Corliss Rose – Tips and tricks for designing and creating your own pod pendants.
#15 "Gearing Up to Create" with Kelly Steindorf – Making steampunky gears with polymer clay. Caning and extruding and much more!
#16 "Bezels & Bales" with syndee Holt – Cool tricks for hanging that pendant from our Prez and Sculpey Brand Ambassador.
#17 "Tips and Tricks for Steampunk Techniques" with Nadia Valiaeva – learn how to create faux aged metal, leather, metal springs and other steampunky things with polymer clay
#18 "Steampunk Vial" with Christi Friesen – Explore using resin,
epoxy clay, swellegant and steampunk accents to create a vessel!