A Comprehensive ZOOM Class With Claire Maunsell
Click HERE to reserve your space NOW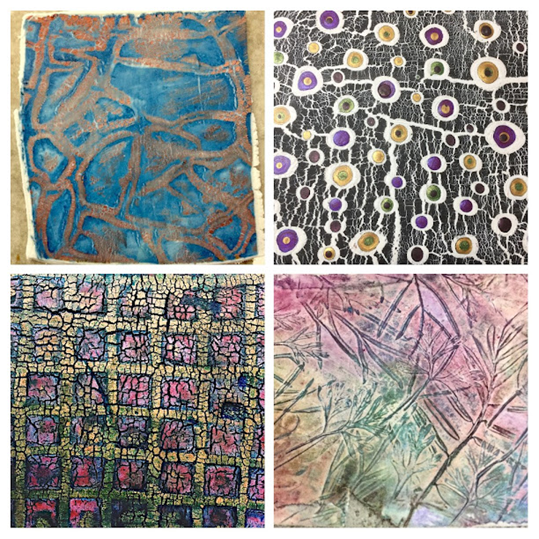 WHEN:
Saturday, Sept. 10th, 2022 8:00 AM – 5:00 PM (Pacific time)
COST:
– $104 (for San Diego Polymer Clay Guild members)
– $124 (non-member price includes 2022 San Diego Polymer Clay Guild Membership through Dec. 31, 2022)
Discover new polymer clay surface techniques with internationally known artist Claire Maunsell. She'll show you some of her favorites as well as how to experiment confidently with many different media to get your own effects. At the end of the class, you'll have a set of your own unique cured veneers which can be cut into necklace elements or earring sets.

Get inspired!! Claire has sent along a colorful presentation that has lots of
images for you to see… to get excited…to get inspired. Click on the link
below…and enjoy the show!!

Download the class preview presentation HERE
Learn the basics of how to mix and add various media to clay to get the look you desire on your pieces including:
What to apply and in which order?
How to test for incompatibilities
Which mediums to apply before curing, or after?
Which products to avoid after curing?
What to use for sealing or finishing? And when it's necessary.
Adding special effects with acrylics, paints, crackle products, pastes, etc.
Mica and pastels powder power tips to add color and shine
Best practices with alcohol inks and other solvent-based media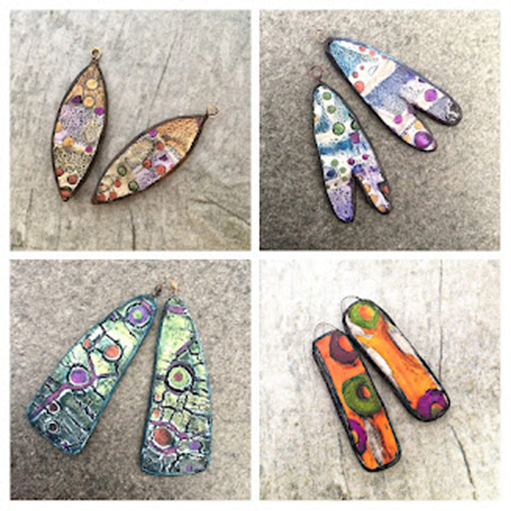 Download the Materials List PDF.
No need to buy a lot of new supplies before the class. Chances are you already have everything you need in your craft stash.
Confirmed registered participants also get:
An invitation from Claire to join her private group on Facebook!
Your after-class questions answered on FB group. Claire will answer those as she can
Photo space to show off what you've made (if you want to)
'Office Hours' on Tuesdays and Thursdays, 6-8 PM. During that time Claire will answer your questions live.
As soon as your registration is confirmed you'll receive an invitation from Claire to join her private group on Facebook'! Via this group Claire will be following up on questions you may have when you try out the techniques after the Zoom workshop is over. The Facebook group will end on October 22, 2022
Click HERE to reserve your space NOW