SOLD OUT – Jeff Dever's 'Small Wonders' Class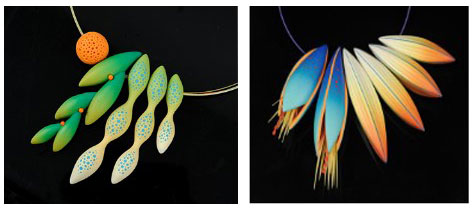 Jeff Dever 3-Day Workshops: In-Person Only
Monday-Wednesday; April, 24, 25, 26, 2023; 9-5 PT
Click HERE to pay to reserve your seat
Enrollment in this in-person class is strictly limited so you'll get individual attention from Jeff. Registration was opened on March 17th to paid-up 2023 SDPCG members. Most seats were filled. There are only 6 spots left!
Members: $420
Non-Members: $465
Plus a $15 lab/materials fee that is due at the beginning of the first day of class. CASH ONLY.
The non-member fee includes a 2023 membership for San Diego Polymer Clay Guild
PLEASE NOTE: We are also offering a two-payment option on the purchase page.
Read our Class Cancellation & Refund Policy. Your class purchase constitutes an agreement to the terms of that document.
In this class, we will explore a variety of small-scale holloware forms and shapes created by using miniature form-building techniques. The results are strong, light, and often reproducible polymer clay holloware pieces, for use as beads, earrings, brooches, or pendants.
With simple techniques, we will create small forms/molds of your own design, and through clay layering and multi-cycle curing build small holloware pieces for jewelry. Surface ornamentation and finishing techniques will also be discussed.
This is a technique workshop, not a project class, therefore all students need a basic working knowledge of polymer clay.
Materials List, Lab Fees, and Extras
There is a $15 lab/materials fee due at the beginning of the first day of class. CASH ONLY.
Premo clay is being generously provided by Sculpey.
Here is the list of Materials & Supplies that you will need for the class.
About Jeffrey Lloyd Dever
Because of Jeff's reputation, this class will fill up fast. Don't wait, it may be too late!
Jeff Dever is sought after as an instructor because of his pioneering polymer clay construction techniques. His polymer clay vessels, jewelry, and sculptural objects have been shown in many national invitational exhibitions, and his works are represented in numerous private collections, galleries, and museums. See more examples of his work HERE.
Jeffrey Lloyd Dever holds a BS degree in Fine Art from Atlantic Union College, 1976. He served on the contract/adjunct faculty of Maryland Institute College of Art in Baltimore, Maryland for 20 years, where he taught illustration and graphic design. He has taught polymer classes across North America and Europe.
Click HERE to pay to reserve your seat