Playful Color: A Veneer Sampler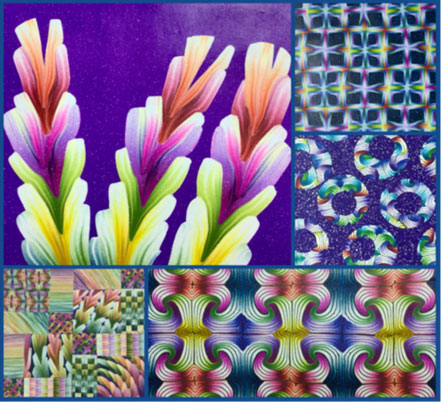 Elevate your color skills in this 2-day workshop by the bay in San Diego
CLASS DETAILS
WHERE: Marina Village Conference Center, Meeting room E1; 1936 Quivera Way, San Diego, CA 92109
LEVEL OF EXPERIENCE: Confident Beginner to Advanced
CLASS SIZE: Minimum 12 – Maximum 25
COST: SDPCG Member: $275; Non-members $285
(Free parking; onsite deli, local food franchises, or BYO lunch)
MATERIALS LIST: Will be sent to you in an email update.
In this class, you will learn how to:
Increase your color mixing agility
Explore strategies for designing successful canes
Perfect your colored pattern combination skills and…
HAVE FUN!!!!
While you may know just what colors you like, and exactly how to mix them, using them in harmonious combinations can be challenging. Learn how to add impact to your polymer clay work with increased exuberance and confidence.

Who is Lindly Haunani?
She began teaching polymer in 1990 and has presented over 100 workshops. Her pieces and techniques are featured in sixteen books, hundreds of published articles, and innumerable websites.
In addition to many private collections, her work is part of the permanent collections of the Racine Museum of Art, The Museum of Fine Arts Boston, The Newark Museum of Art, The Philadelphia Museum of Art, and San Diego's own Mingei Museum of Art.
Check out her About page on her website.
Lindly Haunani's passion for food and cooking provides a basis for her inspiration when making things. This is often expressed via the color, construction techniques, and form in her designs.
Please review our Class Cancellation Policy.
If you have any questions about the class, please contact Kathy Hepburn the Program Chair prior to purchasing your class at [email protected]