Create Stunning Jewelry with Jeff Dever's 'Small Wonders' Class: Register Now!
3-Day Workshop: In-Person Only
Monday-Wednesday; April, 24, 25, 26, 2023; 9-5 PT

Click HERE to pay to reserve your seat
Enrollment in this in-person class is strictly limited so you'll get individual attention from Jeff. Registration was opened on March 17th to paid-up 2023 SDPCG members. Most seats were filled. There are only 6 spots left!
Members: $420
Non-Members: $465
Plus a $15 lab/materials fee that is due at the beginning of the first day of class. CASH ONLY.
The non-member fee includes a 2023 membership for San Diego Polymer Clay Guild
PLEASE NOTE: We are also offering a two-payment option on the purchase page.
Read our Class Cancellation & Refund Policy. Your class purchase constitutes an agreement to the terms of that document.
In this class, we will explore a variety of small-scale holloware forms and shapes created by using miniature form-building techniques. The results are strong, light, and often reproducible polymer clay holloware pieces, for use as beads, earrings, brooches, or pendants.
With simple techniques, we will create small forms/molds of your own design, and through clay layering and multi-cycle curing build small holloware pieces for jewelry. Surface ornamentation and finishing techniques will also be discussed.
This is a technique workshop, not a project class, therefore all students need a basic working knowledge of polymer clay.
Materials List, Lab Fees, and Extras
There is a $15 lab/materials fee due at the beginning of the first day of class. CASH ONLY.
Premo clay is being generously provided by Sculpey.
Here is the list of Materials & Supplies that you will need for the class.
About Jeffrey Lloyd Dever
Because of Jeff's reputation, this class will fill up fast. Don't wait, it may be too late!
Jeff Dever is sought after as an instructor because of his pioneering polymer clay construction techniques. His polymer clay vessels, jewelry, and sculptural objects have been shown in many national invitational exhibitions, and his works are represented in numerous private collections, galleries, and museums. See more examples of his work HERE.
Jeffrey Lloyd Dever holds a BS degree in Fine Art from Atlantic Union College, 1976. He served on the contract/adjunct faculty of Maryland Institute College of Art in Baltimore, Maryland for 20 years, where he taught illustration and graphic design. He has taught polymer classes across North America and Europe.
Click HERE to pay to reserve your seat
---
SOLD OUT – Polymer Surface Techniques: Learning How To Layer Successfully
A Comprehensive ZOOM Class With Claire Maunsell
Click HERE to reserve your space NOW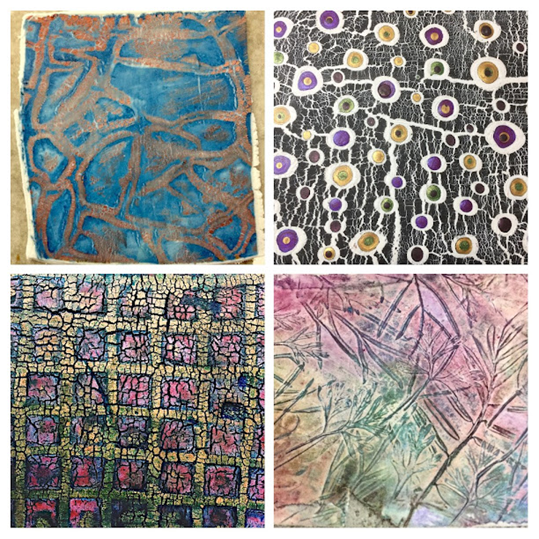 WHEN:
Saturday, Sept. 10th, 2022 8:00 AM – 5:00 PM (Pacific time)
COST:
– $104 (for San Diego Polymer Clay Guild members)
– $124 (non-member price includes 2022 San Diego Polymer Clay Guild Membership through Dec. 31, 2022)
Discover new polymer clay surface techniques with internationally known artist Claire Maunsell. She'll show you some of her favorites as well as how to experiment confidently with many different media to get your own effects. At the end of the class, you'll have a set of your own unique cured veneers which can be cut into necklace elements or earring sets.

Get inspired!! Claire has sent along a colorful presentation that has lots of
images for you to see… to get excited…to get inspired. Click on the link
below…and enjoy the show!!

Download the class preview presentation HERE
Learn the basics of how to mix and add various media to clay to get the look you desire on your pieces including:
What to apply and in which order?
How to test for incompatibilities
Which mediums to apply before curing, or after?
Which products to avoid after curing?
What to use for sealing or finishing? And when it's necessary.
Adding special effects with acrylics, paints, crackle products, pastes, etc.
Mica and pastels powder power tips to add color and shine
Best practices with alcohol inks and other solvent-based media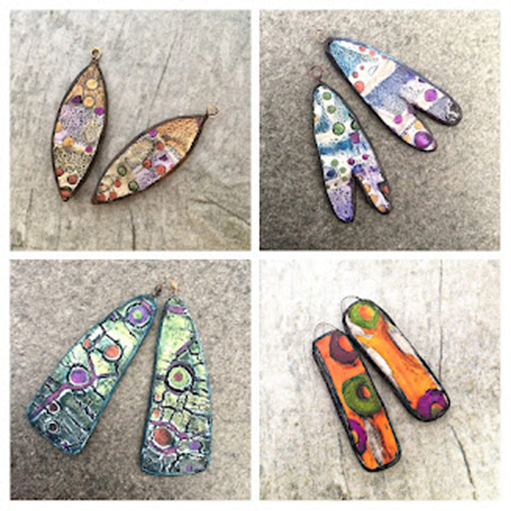 Download the Materials List PDF.
No need to buy a lot of new supplies before the class. Chances are you already have everything you need in your craft stash.
Confirmed registered participants also get:
An invitation from Claire to join her private group on Facebook!
Your after-class questions answered on FB group. Claire will answer those as she can
Photo space to show off what you've made (if you want to)
'Office Hours' on Tuesdays and Thursdays, 6-8 PM. During that time Claire will answer your questions live.
As soon as your registration is confirmed you'll receive an invitation from Claire to join her private group on Facebook'! Via this group Claire will be following up on questions you may have when you try out the techniques after the Zoom workshop is over. The Facebook group will end on October 22, 2022
Click HERE to reserve your space NOW
PAST CLASSES
CLASS CLOSED
"Colorful Celtic Canes" Class with Sarah Shriver
Saturday, June 11, 2022, from 9:00 AM to 4:00 PM
Click HERE to reserve your seat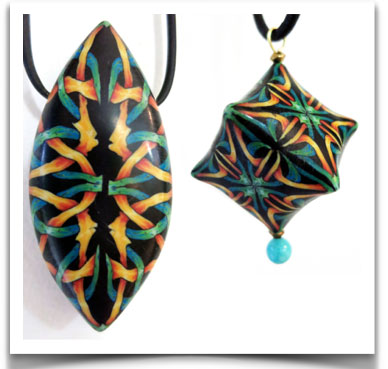 Learn to create rich complex canes with surprisingly few steps! Increase your confidence in combining colors while exploring the wonder of intricate polymer clay caning.
Includes 7 hours of online Zoom class time with 1 & 1/4 hours for lunch and breaks.
A video recording of the event will be available to you for 30 days after the class. You can rewatch critical steps in the process to get more technique tips or expand your notes.

Members: $120
Non-Members: $140
(non-member fee includes 2022 membership for San Diego Polymer Clay Guild)
Your materials list and initial preparation steps document will be sent to you automatically after your order. Click the green "Download" button on your Order Confirmation page.
With more than 25 years of experience and a passion for teaching, Sarah will guide you through the steps using color and shadow to create a cane with the look of an over-under weave.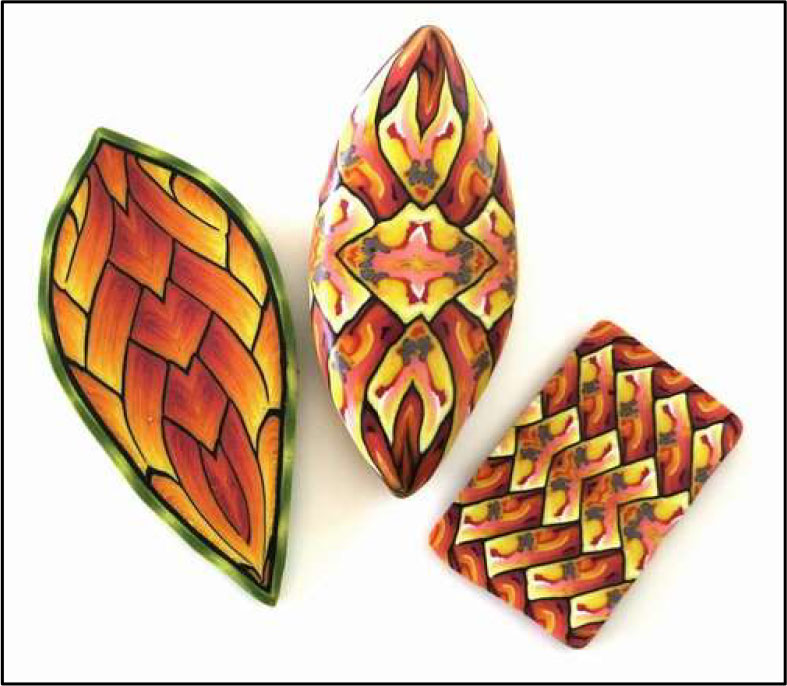 Students will use "kaleidoscoping" in techniques to create variations on intricate repeat pattern canes and these will be used as veneers on a variety of bead shapes.
Click HERE to reserve your seat
The class size is limited to 20 people. Sarah Shriver has been a leading international polymer clay artist and teacher for over 25 years. Because of her reputation, this class will fill up fast. Don't wait, it may be too late!
Go directly to our check-out cart when you scan the QR code below.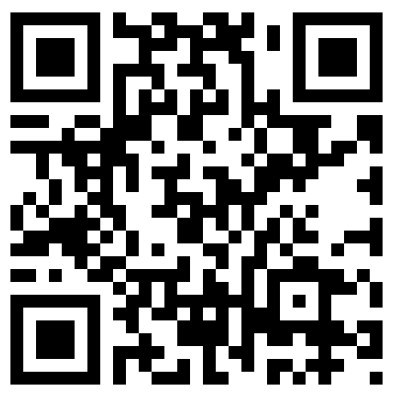 CLASS CLOSED
DATE: Saturday, December 4th, 2021 from 9 AM to 3 PM Pacific Time
LOCATION: Online Zoom class
COST: $45
REGISTER HERE
Randee Ketzel, one of the authors of Polymer Clay Gemstones — the Art of Deception, will be teaching this Zoom class. The class is limited to 45 people. It's an all-day event.
In the morning we'll be learning how to create faux cinnabar objects. And in the afternoon we'll be making Navajo silver-style pendants and other objects. Register for this class HERE.
---
SOLD OUT –
The SDPCG Round Robin event is online on Saturday, October 23, 2021 from 9:00AM to 4:00PM.
Register HERE.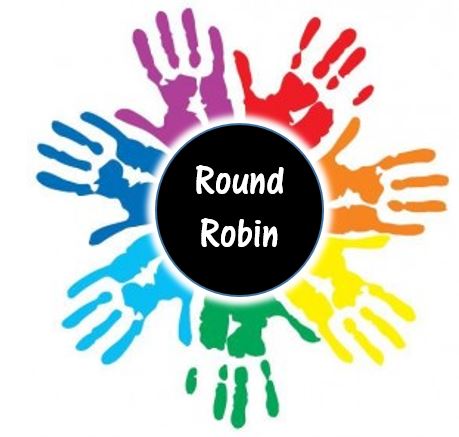 Click the image below to download the 2021 Round Robin class brochure.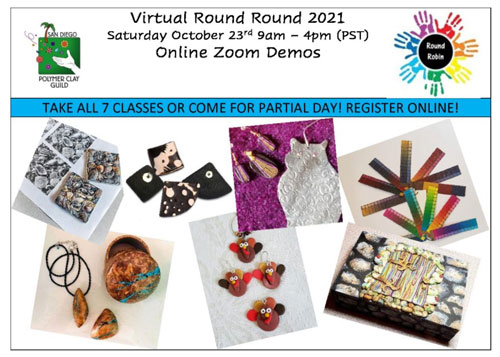 Here's the schedule for Round Robin. Join us all day or just parts of it. Download the schedule HERE.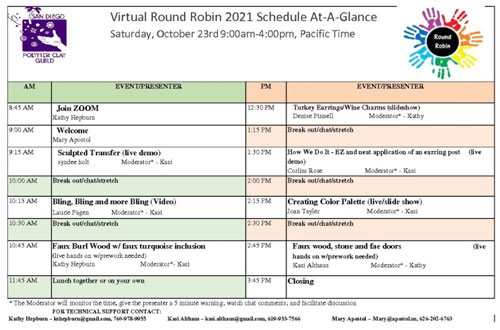 Register HERE.
---
SOLD OUT – Laura Tabakman
June 26th, 2021 10:30-12:30 – on Zoom with SDPCG
REGISTER HERE: https://www.e-junkie.com/i/10if0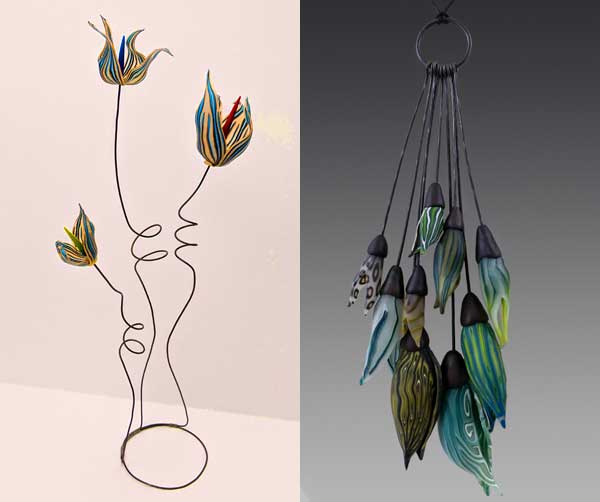 A seminar and presentation by Laura will provide a live look at her use of translucent clay, translucent and colored canes, and other elements to create botanical sculptures (some wearable!). Learn about what inspires her work, her work process, and her approach to art installations.
She will also present a slide show that will expand your view of polymer clay art and its place in galleries.
PAST CLASSES
In the last few years we've been honored to offer classes by big-name artist/teachers in the polymer clay universe. We're working to bring more of them to you in the future. Here's a few who have been our guests in the past few years:
Dayle Doroshow – Two Mixed Media Classes
Dayle Doroshow is a Mixed media/ Polymer clay artist and owner of design studio Zingaro, Stamp of Distinction in California.
She trained in traditional ceramics at Riverside Bell Tower Pottery program and the Columbia University Extension program in New York City and sold her pottery in Greenwich Village shops.
Her jewelry, home decor, ethnic figures, and handcrafted books can be seen at art shows and galleries on the West Coast. In 2012 her work was acquired and shown at our own Mingei International Museum in Balboa Park, San Diego.

Dayle enjoys teaching and sharing her techniques in workshops across the United States and in France. For more interesting facts and information about Dayle, go to http://www.dayledoroshow.com/blog/index.php/about/ or here https://www.dayledoroshow.com/blog/index.php/gallery/
Take ONE class OR take TWO classes for a discounted price! See the details under Registration Information at the bottom of this page.

Friday, January 31, 2020 from 9:30 to 5 PM
FOLD BOOKS – 10 VARIATIONS ON A THEME
Level of Experience: Confident beginner and Up
Cost: $108 (members), $128 (non-members).
Clay included, courtesy of Polyform
---
Folded papers and books have been around since ancient times. With single sheets of paper, a bone folder, your hands and your imagination come explore a cornucopia of unique folded designs. These pieces of paper will blossom into effective pieces to communicate your message and art. This spirited hands-on workshop will guide you through at least ten fun, folded designs to use for books, cards, altered books and journals, brochures, invitations, and more. The book covers will be made of polymer clay and embellished with an assortment of polymer clay techniques.

Saturday, February 1st from 9 AM to 5 PM.
Sculptural Books, Tryptychs, and Standing Screens
Level of Experience: Confident beginner and Up
Cost: $108 (members), $128 (non-members). Clay included, courtesy of Polyform
In this workshop we will explore the three-dimensional world of sculptural books, triptychs and standing screens. Using polymer clay, papers, fabric, and personal treasures, we'll create and layer images and text to tell a story, evoke a mood, or simply create something beautiful. Polymer clay techniques will include transfers, layering and collaging with translucent clays, several surface techniques and the successful integration of mixed media with polymer clay. We will bind the sculptural books with a text block of unusual papers. Triptychs and screens will be hinged and can be used as luminescent candle screens, wall pieces or standing sculptures. Leave the workshop with fresh ideas and techniques to incorporate into your personal style.
---