Corliss Rose – Landscape Polymer Pendant Workshop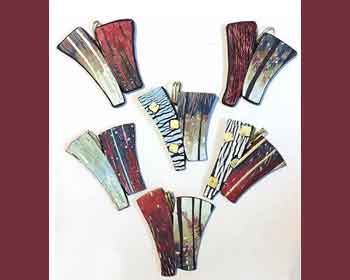 WHEN:   Saturday, July 28th, 2018; 8:30 AM – 5:30 PM,
WHERE: Holiday Inn Express, Encinitas/Cardiff, CA; 1661 Villa Cardiff Drive, 760-944-0427  –  just off the Birmingham Exit of the 5, and across the parking lot from great Mexican fast food at El Pueblo – (our favorite buy-your-own lunch source)
LEVEL OF EXPERIENCE:  Absolute Beginner, Intermediate, and up
CLASS SIZE:  Minimum 10, maximum 16 participants
COST: $106
SDPCG MEMBERS ONLY UNTIL JUNE 30
A class with Corliss Rose is a special treat.  Our neighbor in Orange County and a member of our guild, Corliss is an excellent and inventive teacher who draws on her experience as a metalsmith to add unique metal findings to any project.
To create these eye-catching pendants, participants will learn different and striking techniques for coloring on polymer clay with acrylic paint.  You'll be using two simple shapes that will be combined to make beautiful pendants or brooches and matching earrings.  You will be shown how to permanently embed findings, distress/texture surfaces and do expert finishing.  No need to worry about precise cutting,  Your clay cuts do not have to be perfect, but your results will be!  Individual one-on-one time will also be available for questions concerning color, texture, and construction.
The "take home" is 1-2 pendants or brooches, and 1-2 sets of earrings.
REGISTRATION:
Fill out the ONLINE REGISTRATION FORM and then you will be sent a confirmation email with a PayPal payment link.
THE SECRET PASSWORD
Copy and paste this 8 character string into the password field in the registration form:  xVA67u+A
If you'd been a member you would have gotten this information almost a month ago. Join SDPCG and get first chance to register for classes.
QUESTIONS?
If you have questions not answered in the material accessible from the website link in the preceding paragraphs, email Kathy Hepburn (kshepburn@gmail.com).
DEB HART – Rainbow Painterly Pixel Bangle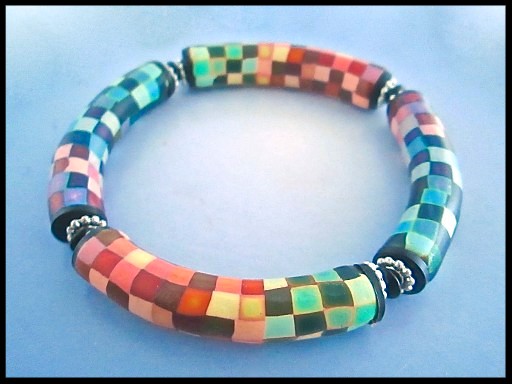 When:   Sunday, June 24th, 2018; 9:00 AM – 12:00 PM, followed by an after-class lunch with Deb
Where: Holiday Inn Express, Encinitas/Cardiff, CA; 1661 Villa Cardiff Drive, 760-944-0427  –  just off the Birmingham Exit of the 5, and across the parking lot from great Mexican fast food  at El Pueblo – (our favorite buy-your-own lunch source)
Level of Experience:  Confident Beginner, Intermediate, and up
Class Size: limited to 16 participants
Cost: $25
Registration and Payment Deadline is 11:59pm  June 20th
Since Deb Hart is already here in San Diego for her Faux Turquoise Sea Turtle Box class…she has offered to do a pop-up, mini-demo/class where she will demo one of her newest project tutorials recently featured on Polymer Clay Daily and available on her website. Join the class and stay for a casual lunch with Deb!
Watch the live demo; and "play along" to learn new skills and create the project.
Deb will demonstrate how to make a colorful rainbow painterly pixel bangle bracelet, including how to make a set of pixel canes using custom rainbow blends; how to create and make tube bead blanks; and how to use the pixel canes to create this colorful bangle.
Participants can complete their project on their own using Deb's PDF tutorial.  All participants will receive a discount code to purchase their own copy of the project PDF tutorial from her website for a reduced price of $5 (usually $15).
WHAT TO BRING:
A materials list will be sent to registered participants in advance of the class. But at at minimum you will need:
An Extruder
Square clay extruder disk
Clay core extruder adapter
Clay
Work surface
Pasta machine.
SKILL LEVEL:
The canes and  blends are beginner skill level and require basic cane reduction knowledge.  Participants will come away with a "how to" knowledge base, but may not be able to complete the project within the mini demo/class time-frame.
REGISTRATION: (https://goo.gl/forms/bffuPma8t7IvgWjz2)
If you have questions not answered in the material accessible from the website link in the preceding paragraphs, email Kathy Hepburn (kshepburn@gmail.com).
---
DEB HART – "Faux Turquoise Sea Turtle Box"
Deadline for class registration is June 3rd!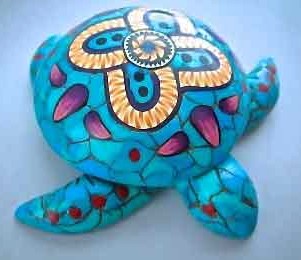 When: Saturday June 23, 2018
9:00 – 5:00 (with a break for lunch)
Where: Northminster Presbyterian Church
4324 Clairemont Mesa Blvd., San Diego, CA 92117,
(our guild meeting and Clay Day location, free parking)
Level of Experience: Confident beginners and intermediate and up clayers welcome! 
Cost: $130
Space is limited to 25 students!
Download the class informational PDF. Please read carefully. You will be emailed further instructions once the entry deadline has passed.
REGISTRATION DEADLINE
May 20th, 2018
Register now by using this online form. Complete and click the blue SUBMIT button. You will be sent a confirmation email with payment information and links.
Want to take this workshop for free?
Enter the drawing for a 'scholarship' for the entire cost of this workshop from the SDPCG Memorial Fund on the online class registration form. You must have paid your 2018 San Diego Polymer Clay Guild dues (you can join and pay your $25 HERE). You are not eligible if you've been an award recipient during the last 2 years.
WHAT YOU'LL GET OUT OF THIS WORKSHOP
Workshop fee includes Kato clay and detailed tutorial PDF!
Learn multiple valuable polymer clay techniques while creating a unique Sea Turtle box in this 1-day workshop taught by Deb Hart. Confident beginners and intermediate and up clayers welcome!
Inspired by Native American culture, this Sea Turtle Box project is a creative mixture of sculpting, cane inlay, and faux stone polymer techniques. The box can be used as home decor, or sized and drilled for hanging as a necklace or ornament. In the process of creating your own unique sea turtle box, you will:
• Create a box form using patterns and a "die form" technique
• Learn at least two simple canes to decorate your box. (More canes will be available for those who want to further embellish their turtles – some free and some for sale)
• Mix polymer clay to make faux turquoise and sculpt the turtle's body
• Apply an antiquing technique to finish the faux turquoise look
To secure your spot in the workshop, a full payment of $130 is required at the time of registration.
• No refunds for cancellations, unless you are able to personally find a replacement to take your spot in the workshop or there is a waiting list.
• If minimum class numbers (10 participants minimum), are not reached, and the class is canceled, your full payment will be refunded.
• If the class is a go, after May 20th, you will receive a materials list and any instructions for the workshop preparation.
QUESTIONS?
Contact Kathy Hepburn (kshepburn@gmail.com)