CAROL SIMMONS – "Fantasy Flowers and Totems"
THE CLASS IS FULL
Sign up for the waiting list HERE.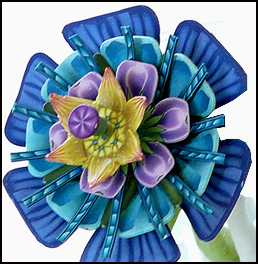 When: Friday – Sunday, April 6-7-8, 2018
9:30 – 5:30 daily
Where: Cardiff Holiday Inn Express
Level of Experience: Intermediate and up 
Cost: $295
Space is limited to 16 students!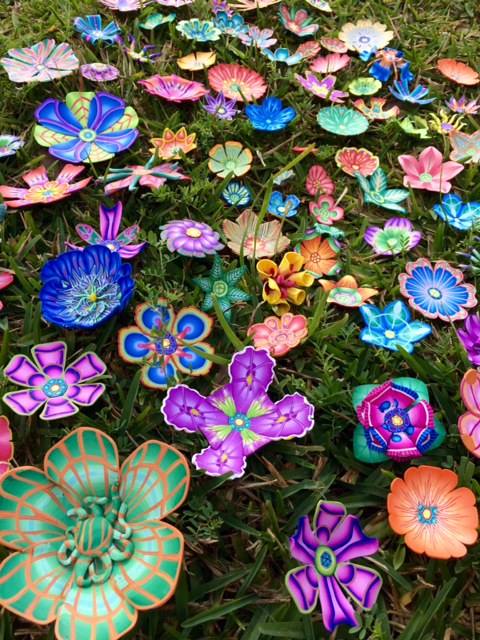 Download the class informational PDF. Please read carefully. You will need to spend approximately 4 hours preparing for the class.
REGISTRATION DEADLINE
March 1st, 2018
Register now by using this online form. Complete and click the blue SUBMIT button. You will be sent a confirmation email with payment information and links.
You must pay in advance to reserve your spot. Carol will be sending you supplies which you will use to create your initial clay components for the rest of the workshop.
Want to take this workshop for $175 less?
Enter the drawing for a 'scholarship' to this workshop from the SDPCG Memorial Fund on the online class registration form. You must have paid your 2018 San Diego Polymer Clay Guild dues (you can join and pay your $25 HERE). You are not eligible if you've been an award recipient during the last 2 years.
WHAT YOU'LL GET OUT OF THIS WORKSHOP
The opportunity to learn from an outstanding colorist and designer. You'll confidently play with a rainbow of hues and the vibrant beauty of flowers in this enchanting 3 day experience.
Working from your pre-prepared Skinner blends and simple canes, you will assemble 3-dimensional fantasy flowers or colorful totems. Everyone taking this course walks out with big smiles on their faces. It's just FUN!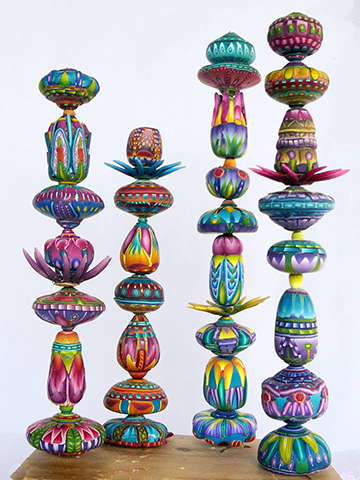 You'll combine thinly sliced flower components or decorative items for totems on metal forms and bake them.
Then you'll assemble the colorful components on wires (for flowers) or stack them on rods (totems).
Carol will demonstrate her method for using magnets for flower assembly so you can easily switch and change them as the mood strikes you.
QUESTIONS?
If you're having problems with the online registration form, you can print out this PDF class registration form, scan it and email it to Kathy.
Contact Kathy Hepburn (kshepburn@gmail.com)