ANKE HUMPERT WORKSHOPS: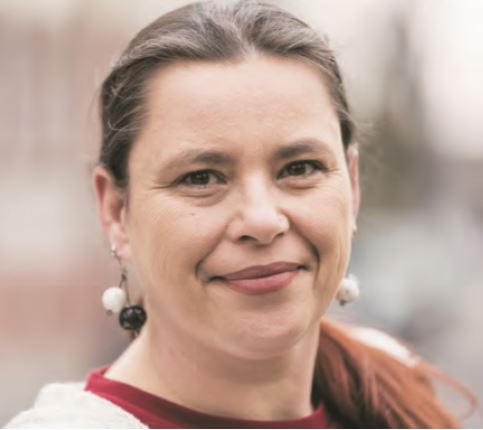 Coming to us from Germany and bringing a little bit of continental magic to California…
The votes are in! Thank you to all of those members who completed the survey indicating your preferences for Anke's class offerings. As a result of the survey, we are hosting a 2 day event – with 2 different classes – September 9th and 10th , 2017. Please note: Each class has its own registration form, so if you plan to attend both, you must complete both forms.
In order to maximize Anke's visit and fill both classes, we will have a two stage registration process.
Priority and first-opportunity to participate will be given to members of SDPCG! Registration is open NOW , so reserve your seat at the clay table early!
A second stage registration, beginning June 15th , will be opened to non-members and Orange County guild members who are not members of SDPCG.
Location – The workshops will be held at the Holiday Inn Express in Cardiff, just off the 5 at the Birmingham Exit. There are many advantages to this location:
It has easy access from the main highway, free parking
A fabulous taco and fast Mexican food eatery right across the parking lot for an easy lunch option
The workshop room is on the first floor, wheel-chair (and roller-bag) accessible, and just down the hall from the main lobby/lounge, which has coffee available.
The room is comfortable, with windows that open, good light, and an overhead screen for projection during demo periods.
Soda machine and bathrooms very close by.
So, come meet Anke and let's have fun learning some new techniques together!!
Workshops

HUNGRY FUNGUS: Saturday, September 9th
Full-day workshop
9:30 AM to 5:00 PM, with lunch break
At the Holiday Inn Express, Cardiff CA (just off the 5 at Birmingham Exit)
The cost is $100
For ambitious beginners to advanced students
Class size limited to 16 people
WHAT YOU WILL LEARN
In this workshop, featuring a sculptural approach to jewelry, you will learn to create an eye-catching necklace. The unique hollow lentil bead pendant is sure to get everyone to ask: "How did you do that?" Experience a learning process that encourages you to experiment with your own ideas to create a pendant that reflects your creativity.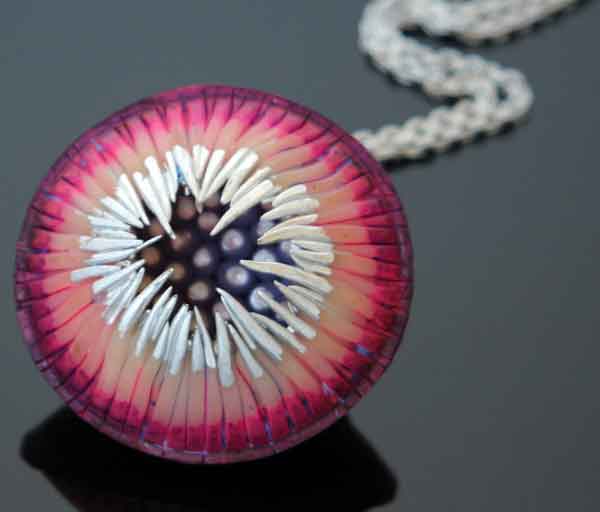 You will learn techniques, tips, and tricks that include how to:
Mix and match custom colors
Create intriguing mysterious eye catchers
Construct hollow lentil beads (with Anke's secret tool!)
Distress the surface of your beads
Assemble your necklace
Use paints to enhance your design
Click Hungry Fungus-material-list to see what to bring to this class.
REGISTRATION FOR HUNGRY FUNGUS
Click this Hungry Fungus Class Registration Form link.
You can pay online using the PayPal Class link for Hungry Fungus by clicking the link on the registration form or here.
Download the page to your computer, saving it as a PDF file, the file will then "refresh" for adding your information
Complete the form,
Save again to your computer, when asked if you want to replace the original document click YES (this will save your completed form rather than the blank one)
Create an email using kshepburn@roadrunner.com and attach/insert your registration form from your computer
Make check payable to SDPCG and send with the Registration Form to:
Kathy Hepburn
7040 Corintia Street
Carlsbad, CA 92009
TRANSLUCENT DANGLY EARRINGS WORKSHOP: Sunday, September 10th
Half-day workshop
9:30 AM to 1:30 PM, with optional lunch after class
At the Holiday Inn Express, Cardiff CA (just off the 5 at Birmingham Exit)
 The cost is only $58
For beginners to advanced students
Class size limited to 16 people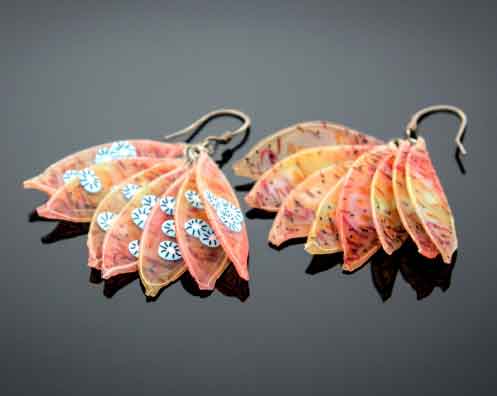 WHAT YOU WILL LEARN
In this workshop you will learn how to work with translucent clay, play with colors AND translucency that will "blow your mind" with new ideas for your own designs. The dangly earrings you create will be light-weight, delicate, and pretty with endless variations. You will learn techniques that include how to:
Work with translucent AND opaque clays combined
Add color to translucent elements in your design
Doodle on clay
Reinforce fragile clay components
Click this Translucent Earrings Materials List to see what you'll need to bring to this workshop.
REGISTRATION FOR EARRING CLASS
Click this Dangly Earring Class Registration Form  link.
You can pay online using the PayPal Class link for Earrings class by clicking the link on the registration form or here.
Download the page to your computer, saving it as a PDF file, the file will then "refresh" for adding your information
Complete the form,
Save again to your computer, when asked if you want to replace the original document click YES (this will save your completed form rather than the blank one)
Create an email using kshepburn@roadrunner.com and attach/insert your registration form from your computer
Make check payable to SDPCG and send with the Registration Form to:
Kathy Hepburn
7040 Corintia Street
Carlsbad, CA 92009