DATE: Saturday, December 4th, 2021 from 9 AM to 3 PM Pacific Time
LOCATION: Online Zoom class
COST: $45
REGISTER HERE
Randee Ketzel, one of the authors of Polymer Clay Gemstones — the Art of Deception, will be teaching this Zoom class. The class is limited to 45 people. It's an all-day event.
In the morning we'll be learning how to create faux cinnabar objects. And in the afternoon we'll be making Navajo silver-style pendants and other objects. Register for this class HERE.
---
The SDPCG Round Robin event is online on Saturday, October 23, 2021 from 9:00AM to 4:00PM. 
Register HERE.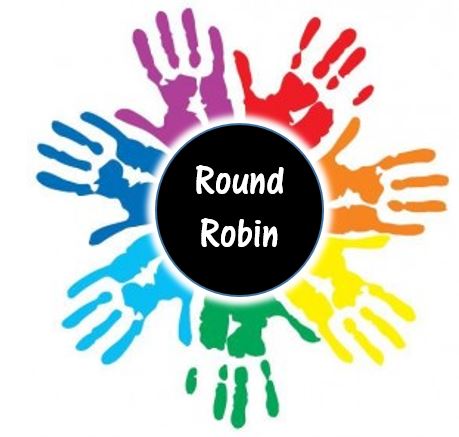 Click the image below to download the 2021 Round Robin class brochure.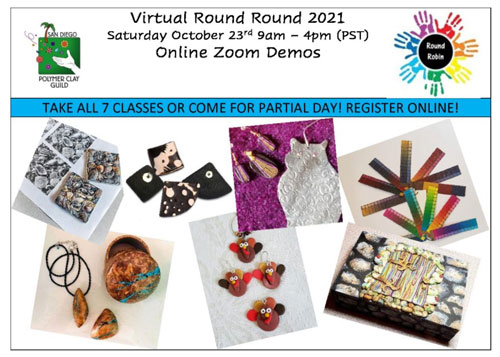 Here's the schedule for Round Robin. Join us all day or just parts of it. Download the schedule HERE.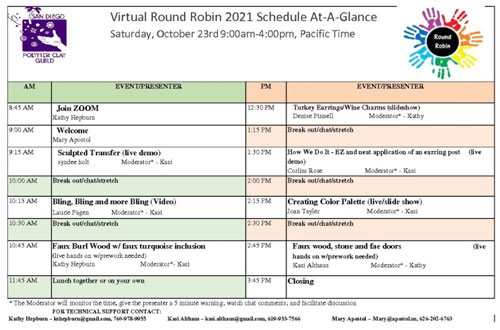 Register HERE.
---
SOLD OUT – Laura Tabakman
June 26th, 2021 10:30-12:30 – on Zoom with SDPCG
REGISTER HERE: https://www.e-junkie.com/i/10if0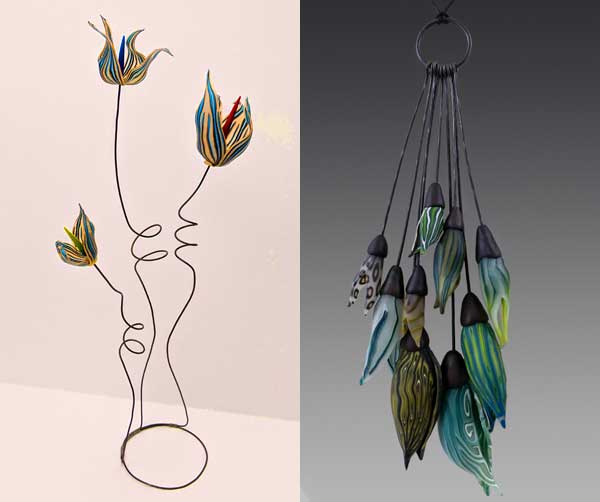 A seminar and presentation by Laura will provide a live look at her use of translucent clay, translucent and colored canes, and other elements to create botanical sculptures (some wearable!). Learn about what inspires her work, her work process, and her approach to art installations.
She will also present a slide show that will expand your view of polymer clay art and its place in galleries.
PAST CLASSES
In the last few years we've been honored to offer classes by big-name artist/teachers in the polymer clay universe. We're working to bring more of them to you in the future. Here's a few who have been our guests in the past few years:
Dayle Doroshow – Two Mixed Media Classes
Dayle Doroshow is a Mixed media/ Polymer clay artist and owner of design studio Zingaro, Stamp of Distinction in California.
She trained in traditional ceramics at Riverside Bell Tower Pottery program and the Columbia University Extension program in New York City and sold her pottery in Greenwich Village shops.
Her jewelry, home decor, ethnic figures, and handcrafted books can be seen at art shows and galleries on the West Coast. In 2012 her work was acquired and shown at our own Mingei International Museum in Balboa Park, San Diego.

Dayle enjoys teaching and sharing her techniques in workshops across the United States and in France. For more interesting facts and information about Dayle, go to http://www.dayledoroshow.com/blog/index.php/about/ or here https://www.dayledoroshow.com/blog/index.php/gallery/
Take ONE class OR take TWO classes for a discounted price! See the details under Registration Information at the bottom of this page.

Friday, January 31, 2020 from 9:30 to 5 PM
FOLD BOOKS – 10 VARIATIONS ON A THEME
Level of Experience: Confident beginner and Up
Cost: $108 (members), $128 (non-members).
Clay included, courtesy of Polyform
---
Folded papers and books have been around since ancient times. With single sheets of paper, a bone folder, your hands and your imagination come explore a cornucopia of unique folded designs. These pieces of paper will blossom into effective pieces to communicate your message and art. This spirited hands-on workshop will guide you through at least ten fun, folded designs to use for books, cards, altered books and journals, brochures, invitations, and more. The book covers will be made of polymer clay and embellished with an assortment of polymer clay techniques.

Saturday, February 1st from 9 AM to 5 PM.
Sculptural Books, Tryptychs, and Standing Screens
Level of Experience: Confident beginner and Up
Cost: $108 (members), $128 (non-members). Clay included, courtesy of Polyform
In this workshop we will explore the three-dimensional world of sculptural books, triptychs and standing screens. Using polymer clay, papers, fabric, and personal treasures, we'll create and layer images and text to tell a story, evoke a mood, or simply create something beautiful. Polymer clay techniques will include transfers, layering and collaging with translucent clays, several surface techniques and the successful integration of mixed media with polymer clay. We will bind the sculptural books with a text block of unusual papers. Triptychs and screens will be hinged and can be used as luminescent candle screens, wall pieces or standing sculptures. Leave the workshop with fresh ideas and techniques to incorporate into your personal style.
---